Green Story
Sitting 1400 feet above sea level surrounded by the rugged hills of the Upper Coquet valley deep in the heart of the Northumberland National Park, Kidlandlee offers an off-grid experience with big sky views and never-ending walking and cycling from the doorstep. Steeped in history dating back to the 1100s it is the perfect location for those who are seeking a blissful escape from it all.
---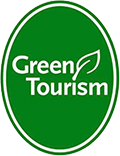 And that is how our story began. A family seeking a holiday to escape from it all ……six months later, we purchased the then-for-sale Kidlandlee, relocated the family, and up-routed our business. Eight years on we have lovingly restored all eight buildings and off-grid systems and in 2023 launched four new eco-lodges in our newly planted wood. Creating a sustainable place to live, share with visitors exploring Northumberland as well as alongside and in harmony with our wildlife creatures and plant life.
It has been an incredible journey, a complete change of lifestyle, some intense "what are we doing" moments and colossal learning curves as we tackled off-grid, bio waste and borehole water systems whilst juggling family life in one of the remotest parts of the National Park…..but it was all worth it.
Protecting our environment, lowering our carbon footprint, sustaining wildlife habitats whilst also supporting our local community is central to our business ethos. It's just one of the reasons why our guests love staying at Kidlandlee. So, what have we achieved so far.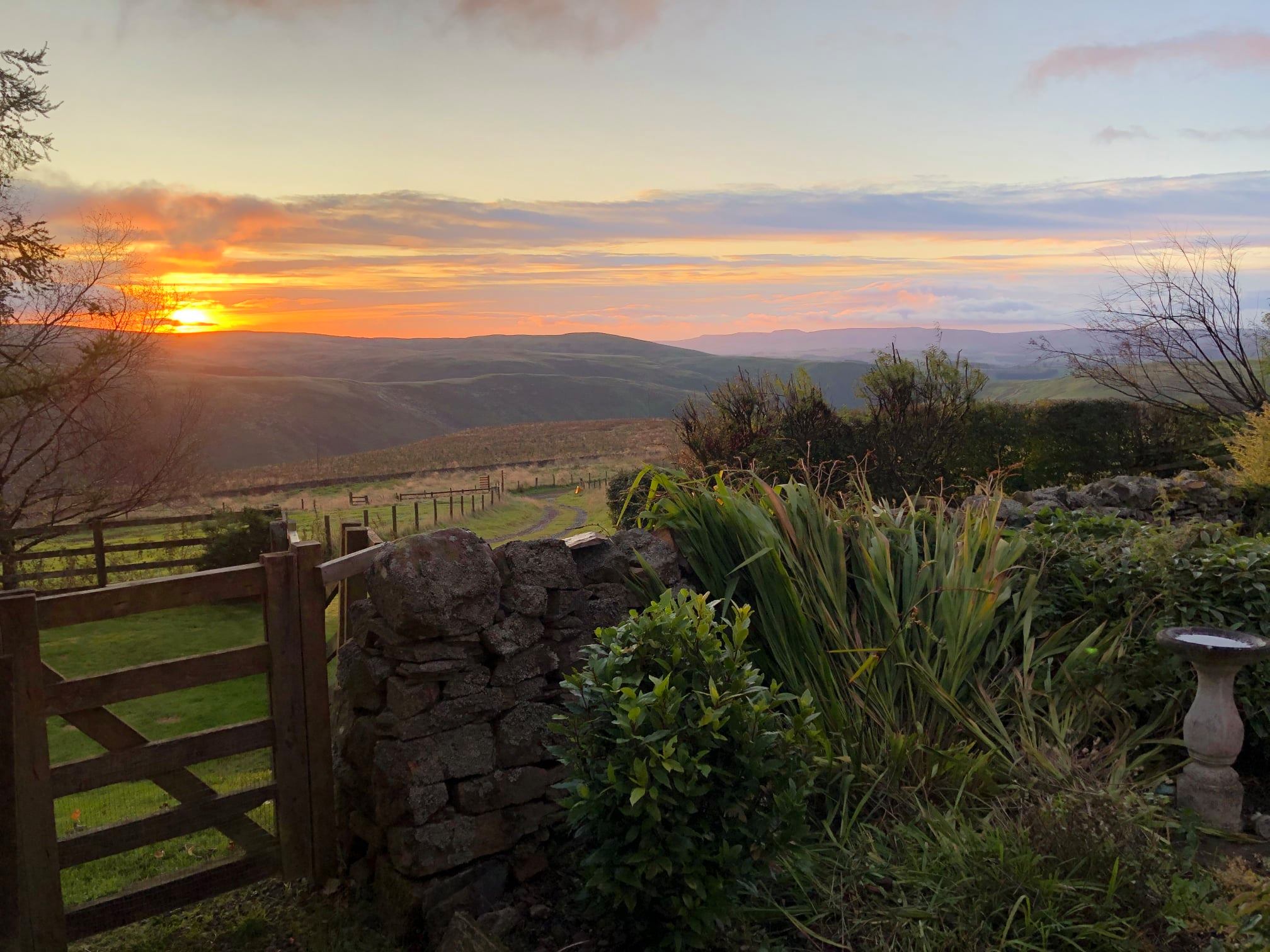 Renewable energy, water and Bio Waste Systems
First, we upgraded and renewed the Solar, Wind storage capacities. In addition to an existing bank of solar panels we invested in two solar trackers which are great fun to watch as they follow the sun giving us maximum solar energy. Newly renovated barns and the main house are fitted with roof solar panels leaving the old cottages with two rows of static panels to the rear, so as not to detract from their original characters. With the wind turbines joining in on the action we are now able to generate and store enough power for the whole estate.
Next we added a second bore hole. Each now has its own pump and filtration system and acts as a backup to the other if needed. We added three new Bio waste treatment tanks which are so environmentally friendly and efficient that they only need desludging once a year.
The main house is now heated using ground source heating, but the cottages and barns are heated  using LPG gas boilers which are all new and controlled using hives, thermostatic valves or in the case of underfloor heating, thermostats that control each zone. We have 4000 litre gas tanks in three locations which are sunk into the ground and are directly linked via Wi-Fi to our supplier. The benefit of having such large tanks is that these only need filling twice a year and being underground they do not spoil the landscape.
We have gradually changed all of our appliances to A+++ rated where possible and our laundry room washing machines use intelligent dosing thus using less detergent. All laundry is washed, and steam pressed on site lowering our footprint and guaranteeing the use of renewable energy.  We only use Ecover products within the cottages and housekeeping and we also have an electric housekeeping buggy called Berty who helps us with changeovers in all weathers.
We replaced all light bulbs with LED and all exterior lighting is now low output, downward facing and dusk to dawn so that we are also 'dark skies' compliant.
Lowering our carbon footprint, plastics and supporting local business
Now that we have tackled the off grid up grades and energy use we looked at how we could lower our use of single use plastics in the kitchens, bathrooms, hospitality baskets and within House Keeping. Tully's of Rothbury, our local family run store came to our rescue here. Kidlandlee and Tully's have a history of trading with each other going back over a hundred years and their knowledge of using/ promoting local businesses and ethos in helping the environment has been key.
Sue and her team have not only helped design and fill our recycled gift bags with wonderful produce made locally but we also now order our household cleaning products in bulk through them too. Everything from recycled kitchen sponges , cloths, recycled toilet and kitchen paper to marine and environmentally friendly cleaning products. Having the opportunity to order larger bottles to refill smaller ones, placing orders that coincide with Tully's and picking up those orders along with the hospitality gift bags has cut our carbon footprint immensely. Not least to say our use of plastics.
Our log burners are fuelled using wind felled trees from our land and our firelighters are made naturally too. This year we replanted a new wood full of trees from the Oak family. We hope that in time this will create an abundant collection of wildlife habitats as well as offsetting some of our carbon  footprint.
Habitats, Wildlife and our community
On top of planting a new wood this year we also set to work repairing the old stone wall of an existing pond which is filled by a natural water full. By building up the wall and adding an overflow feature into a waterfall below we were able to increase the depth and thus create a happier space for the annual return of frogs and newts. We created a second pond by the main house too and this attracts the deer as they pass through from the  forests.
We have several red squirrel's living near the ponds and have now introduced feeders nearby and are working with the wonderful Coquetdale Squirrel Group to create safe habitats. We hope our wood will one day take part in this. We have bat hibernation boxes across the estate and have introduced bird feeders in each of the cottage gardens. We are visited by wild pheasants, grouse, kestrels and herons and have several books in the cottages to help guests identify the wildlife they are seeing.
There is still so much to do! From planting several wildflower gardens around the estate to encourage bees and finishing our woodland fire side star gazing area to maximise our 'Dark Skies' location, the team are working harder than ever.
Our wonderful Housekeeping team are all from the valley and surrounding villages and are extremely passionate when it comes to our ethos of protecting wildlife, local businesses and community. We love sharing Kidlandlee and all it stands for with the many families that stay in our cottages and every member of the team has contributed their ideas, knowledge and skills in order to make things happen.
Together as one big family we have laughed, cried, made new discoveries and shared some great moments. This is our green story so far…….but the journey has only just begun.