Welcome to Kidlandlee
For lovers of the great outdoors or those seeking a blissful escape from it all, the beautifully secluded location of our award winning luxury holiday cottages and barn conversions offer peace and tranquillity where the landscape takes centre stage.
Seasonal Discount now available on remaining dates in November and December (Excluding Christmas & New Year)
 Gold Award Winner at the Visit England National Awards and North East Tourism Awards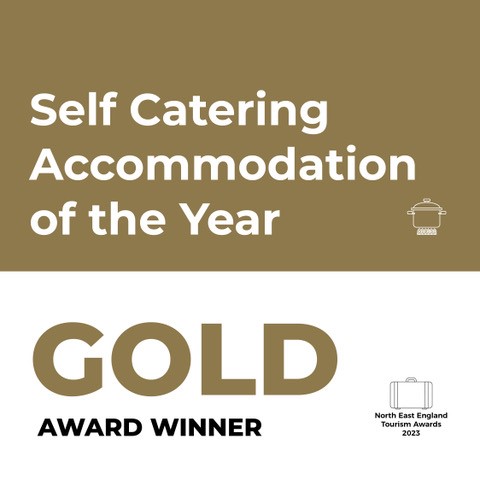 "This is our second stay at The Hemmel and it was just as special as the first. The moment you walk in the door you immediately relax, which is also helped by a treatment with Catherine at The Cabin. We would also recommend using the star gazing kit that can be used upon request. Our first night was the perfect night for it and it was great fun to look up at the stars and watch the moon come over the hill. We are already discussing our next stay and can't wait to return! Thank you very much to Terri, Matthew and the great team at Kidlandlee"
Alice 2023
"Just arrived back home after our magical stay in The School House. We are lucky enough to have lived and worked all over the world and Kidlandlee stands alongside the very best stays we've ever experienced. Kids loved the wildlife and gardens, my wife loved the beautiful cottage and thoughtful touches and I loved the peace and quiet and family time. Just fantastic."
Mark 2021
"Stayed at Kidlandlee several times now and love coming back to this beautiful location, the views from the cottages are simply stunning, walks in all directions from your front door, Leyland Barn itself is home from home, very comfortable, doggy friendly, all the amenities you need and very very clean, it really is five star accommodation, unfortunately this holiday has come to an end but already booked to come back up this August!"
Paul 2023
"A truly remote and wonderfully peaceful location, great for anyone who enjoys outdoor activities. There are some good, long walks from the door and even better mountain biking and trail running options. The cottage is warm and comfortable, very well-equipped, and has fantastic views across the hills. There is also a lot to do in the area in all seasons. We would definitely book again."
Liz 2023
"It's our last night here in Chaffinch cottage and we just want to say a huge thank you for the place you have created and the land you tend with such vision and care. We have loved walking in every direction, out every day but only once getting in our car! The regenerative, low carbon vision of this paradise is the main thing that drew us here and it is such an inspiration to see how you are making it work!
Sophie and Sarah 2022
"A gem! A genuine 5-star cottage lacking in nothing and with views that are truly spectacular. The owners have spared no expense to ensure visitors have a memorable holiday with its high-quality furnishings and fittings through to the superior welcoming gifts. We have stayed in numerous holiday cottages over many years and it is rare to come across this standard. A deserved winner."
Dave and Janet 2022
"We returned from our week in The School House feeling, rested, energized, and like we'd just experienced something very special. Which I think we had. You have created something very special at Kidlandlee. We've been lucky enough to stay in many cottages/houses over the years - this is up there with the best! Gratitude to all involved!"
Caroline 2022

Location
Sitting 1400 feet above sea level deep in the heart of the Northumberland National Park, this is a place of big sky views and never-ending walking and cycling from the doorstep.
Surrounded by the beautifully rugged hills of the Upper Coquet Valley in the heart of the National Park, this really is a place to escape the crowds and get away from it all. The cottages and barns are located within the Northumberland Dark Sky park which is the largest protected sky in Europe. It has gold tear status which makes it a destination for star gazers from around the world.
For family days why not visit nearby beaches, castles and stately homes or just hop on a train and explore Edinburgh within the hour!
Whether it be an executive escape, or a fun filled family holiday, the calm natural beauty of Kidlandlee will certainly send you home relaxed, refreshed and plenty of fond holiday memories.
Cragside House and Gardens
Alnwick Gardens and Alnwick Castle
Bamburgh Castle
Sustainable Tourism
Kidlandlee is an off-grid experience without compromising on luxury. Sustainable Tourism and our commitment to Improving/ lowering our environmental impact on what is one of the most beautiful hamlets nestled deep in the heart of Northumberland's National Park , is why we have been awarded Gold with Green Tourism and Silver for Ethical, Responsible and Sustainable Tourism at the North East Tourism Awards this year.
Our cottages are powered by solar trackers and wind turbines, water is pumped from two bore holes and filtered on site, two bio waste systems naturally treat and dispose of your wastewater and we encourage wildlife habitats too so watch out for the Red Squirrels!
Supporting local businesses our Hospitality baskets are full of products locally sourced by Sue and her team at Tully's of Rothbury, and our Stewardship this year will help us to support our Educational, tree planting and re wilding projects.
Our Visitors Charter has great ideas on how you can play your part whilst staying in our beautiful National Park and exploring all that is amazing about Northumberland!
Holistic Healing at The Cabin
Many of our guests have said that their 'one quiet moment' happens once they get to Kidlandlee. The slower pace of life, and vibrant energy of the hills, soothes the mind/ body and makes you stand still, and reconnect.
With this in mind, we thought why not go the extra mile and give our guests the opportunity to experience a range of Holistic Healing treatments and enhance that sense of well-being while at Kidlandlee.
We are proud to have partnered up with Catherine Phillipson from Loved Up Aromatherapy who specializes in Holistic Beauty Treatments and women's Health and Well-being, creating treatment packages that we think you will love in our dedicated treatment room right here on site. A rustic, wooden cabin heated using wind-felled logs to create a warm and inviting space in keeping with our 'Green' ethos.
You can now browse and book treatments before and during your stay via the 'View & Book Treatments' button on this page and really take advantage of your 'one quiet moment' at The Cabin, Kidlandlee.